The complete guide on how to use the e-grievance redressal portal by vmedulife and its innumerable advantages…
vmedulife introduces 'e-Grievance,' a Grievance Redressal System, which allows AICTE and UGC-certified institutions to handle and redress issues with increased efficiency, resulting in a highly constructive atmosphere on campus. With cost-effective strategies, our innovative methodology assists customers to imagine, create, administer, and reform the education system. Prompt e-Grievance service makes it possible to submit complaints without any difficulties or fear from users. These indeed prove to be the most important advantages of the e-grievance redressal System.
Students, instructors, parents, alumni, management, and non-teaching staff can all use the user-friendly and protected interface to help keep grievance procedures discreet. It allows institutions to put in place a set of precise procedures to guarantee responsibility and gain utmost results by addressing stakeholder grievances and boosting transparency, resulting in a positive environment.
There are two major interfaces used by vmedulife while dealing with grievances. A user interface for students, instructors, parents, and other non-teaching staff, and another comprises cell members in this system.
1.User-Interface :
By enrolling on the website, a student, teacher, parent, or member of the institution's staff can file a complaint with the system. The user will receive a complaint ID (acknowledgment number) after successfully registering the complaint for future reference. The complaint will be forwarded to the officer in charge of the specific complaint category. The petitioner will receive an alert message once the complaint has been settled, and he or she will be able to examine the response to the grievance posted.
Because they are provided formal acknowledgment by SMS, Email, and other online notifications in a confidential manner, people tend to gain greater confidence in this online grievance and feedback process. This is only one of the major advantages of e-grievance redress by vmedulife. Students, parents, professors, and other staff members can efficiently and quickly resolve their problems. Furthermore, consumers will find it more convenient to file a complaint through the website.
2.Cell In-charge Interface :
After receiving complaints via vmedulife, the admin will confirm the legitimacy of the complaint and submit it to the appropriate authority in charge for timely and effective resolution. The in-charge officer responds to the complainant with supporting papers, if any, after properly resolving the issue by effective action. The complaints that have been resolved will be marked as closed, but the complainants can revisit the case if they are unhappy with the solution or action is done. The administrator of the grievance system can also send the complaint to a third party.
Advantages of e-Grievance Redress by vmedulife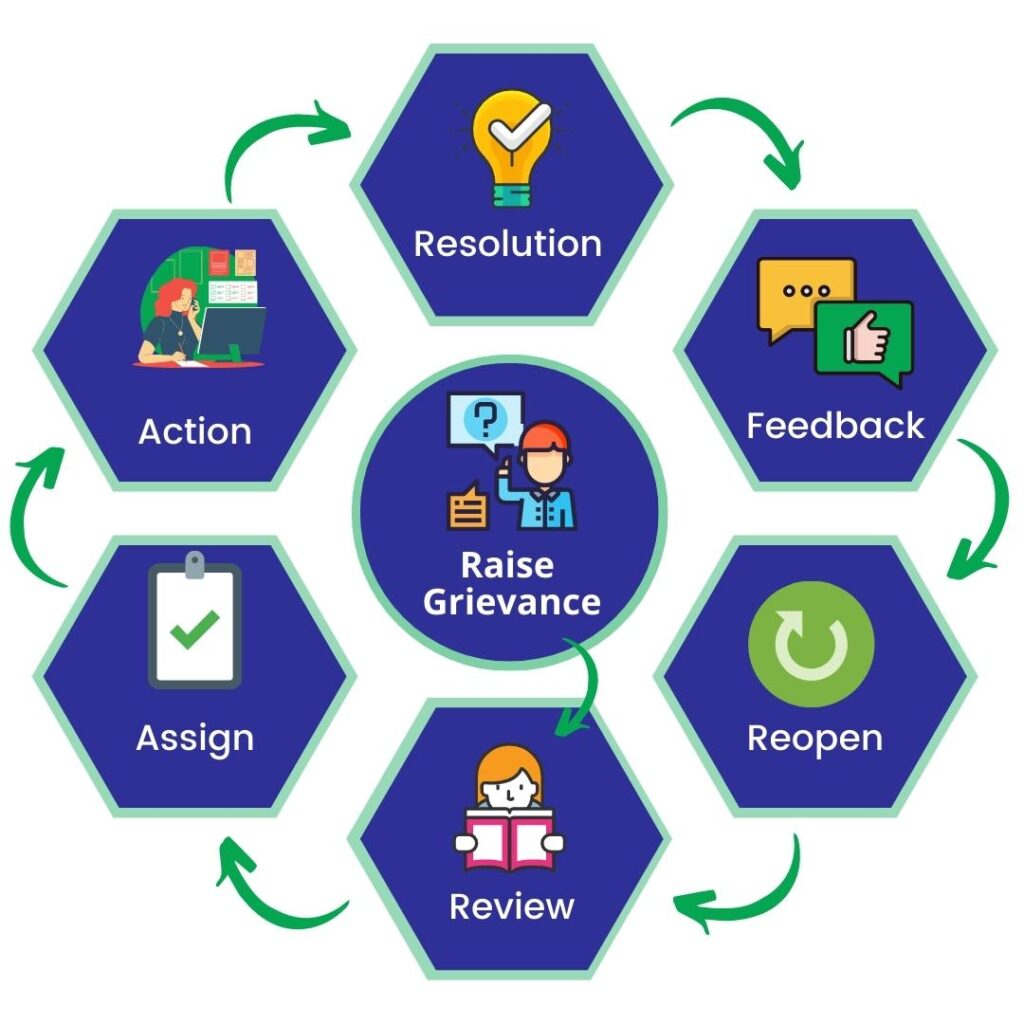 One of the major advantages of e-grievance redress by vmedulife is that many concerns relating to attendance, admission, examination, teaching, evaluation with the requirements and provisions, violation of privacy, and other academic and non-academic matters could be addressed all under one roof.
The main benefit is that the online portal tackles the issues and prohibits tactics within corporations and educational institutions while also providing a capable tool for grievances and complaints. It would also assist the members of the grievance cell in enquiring and investigating depending on the complaints received, which would be kept absolutely confidential and transparent.
Every educational institution in the country, be it pharmaceutical, management, etc can assure improved accountability, response capabilities, and fair practice by housing single effective software with vmedulife considering the many advantages of e-grievance redress.
The advantage of e-grievance redress over traditional complaint registration is that it is simpler and provides an opportunity to take a methodical approach to solve difficulties while also catching sight of several possible solutions.
If you want to gain some detailed information regarding our procedure, take a look at our website and contact us.