Educational institutions have been facing a variety of obstacles over time. From coordinating parent-teacher conferences to administering online exams and collecting online payments, we've got you covered. vmedulife ERP will take care of all of your data processing needs. It's an online college Management Software with a sophisticated dashboard, all important features, and industry knowledge and skills working for you. We are leading the market with the best ERP systems and exceptional customer service. These are a few of the most important features of ERP vmedulife proudly provides…
Admission Management
This is one of the features of ERP that guarantees that the admissions process is completed quickly and efficiently. Data for official records and reports can be easily retrieved and processed, thanks to the automation of application forms. vmedulife's Admission Management simplifies the admissions process for both new and current students. Students can be registered online, applications can be verified and shortlisted online, and admission forms and fees can be sent online, to name a few chores that are made a breeze.
Fee Management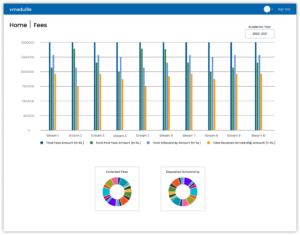 With vmedulife, comprehensive and reliable statistics on fee management for any institution can be created in a flash. With this one of the features of ERP, creating trackers of how many students paid their fees on time, the manner of payment, scholarships received by students, outstanding fees, generating fee challans, and so on would be just a piece of cake. Fee Management feature aids in the collection of fees on campus and provides parents with useful reports and timely alerts as well.
Student Management
This is one of many features of ERP that keeps a detailed record of every student who enrolls in various courses at an educational institution. Maintaining records such as personal information, including images of students, previous institute information, birth, and other educational certificates, admission in which streams and standards, and so on would no longer be a time-consuming effort.
Library Management
All library-related actions, such as searching for books, finding them, then issuing and tracking, and so on, are handled by the library management feature. It is one of the most commonly requested features of ERP by universities with barcode integration. The mundane library tasks of updating databases are done in no time such as the book name and its author, the number of volumes issued at a specific ID, returning book alerts, late fee fines on students, and so on.
Examination Management
From collecting the exam fees to the generation of exam results, the Examination Management feature speeds things up. This is one of the most important features of ERP that aids in the creation of examination calendars as well as the management of exam notifications. Students' grade book reports are created using the examination details. Additionally, institutions have the option of taking their exams online. A perfect school management system like vmedulife should be able to track all of the institute's examinations.
Inventory Management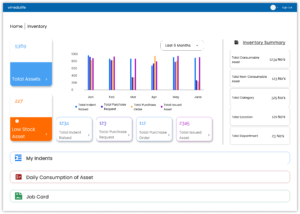 vmedulife is the best ERP software that enables administrators to keep track of all assets, which was previously a near-impossible undertaking. Inadequate inventory management causes inappropriate allocation of goods. This feature manages the college's purchase orders, goods invoicing, stock management, and equipment. Inventory Management also creates comprehensive asset reports.
Attendance Management
The ability to track attendance, both for staff and kids is one of the major features of ERP. This makes it easier to keep track of the pupils present in the institute and ensures that attendance is maintained. This feature makes the tedious task of taking a roll call for the pupils much easier. vmedulife's ERP software has a provision that alerts parents about their children's presence as well.
Employee Management
Staff must be managed in the same way that students are. Everything from their attendance to their remuneration is included in this. It's difficult to manage an educational institution's entire staff, so using this feature to release salaries and other charges is a good idea. This creates a central repository for all employee-related data, such as pay stubs.